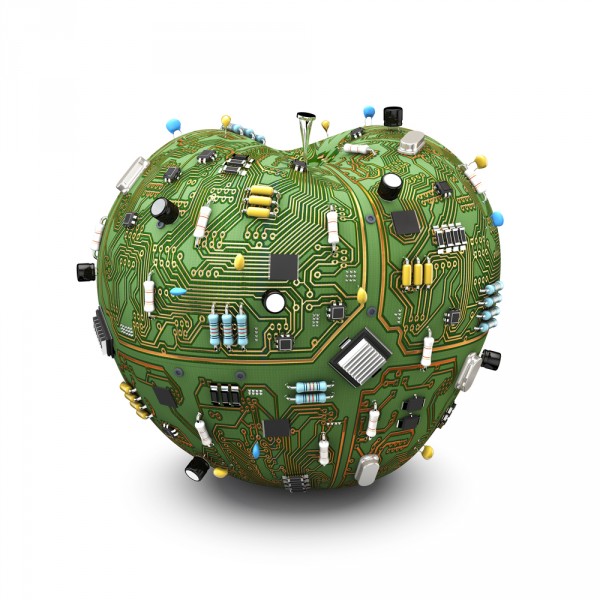 I've never owned a Mac before, but I've secretly wanted one since the release of OS X. The first time I tried the operating system was at CompUSA where I was a salesman
.
I regularly sold iMacs, iBooks, PowerBooks, Mac Minis and eMacs
.
The people that came to the Apple section of the store always seemed very odd -- they dressed weird and were loyal to Macintosh as if it were a religion
.
However, as odd as the people were, they were also very computer literate -- the same could not be said for the average eMachines or Compaq buyer
.
Sadly, like many people, Apple hardware has always been too expensive for me -- I live meagerly

.

And so, I had to settle for Windows

.

There was nothing bad about Windows per se, but it lacked the cool-factor that the Apple computers had

.

Plus, I like to build computers and upgrade them

.

Something like a Mac Mini was affordable but not upgradeable -- a major turnoff

.
Over the years, I slowly transitioned to using Linux in a dual-boot with Windows

.

It felt more like Mac since OS X and Linux distributions are both Unix-like operating systems. Linux allowed me to continue building my computers while taking advantage of free operating systems. While I learned to love Fedora and Gnome 3, it just wasn't the super-cool OS X that I pined for

.
Earlier this year, I decided to try Windows 8 despite the poor press and reviews it received

.

I surprised myself and actually liked it! I decided to make it my daily-driver

.

In fact, I liked it so much that I declared I was leaving Linux for it

.

However, truth be told, I still kept Linux on a partition for dual-boot purposes

.
Unfortunately, my Windows 8 love affair was short lived

.

While the Modern UI and Start screen were great for casual home use, they really got in my way when trying to do actual work

.

I even installed Windows 8.1 to see if it could help but it couldn't -- Windows 8 is just a productivity killer

.
I decided I wanted a Mac. However, I had built a very nice Ivy-Bridge desktop last year -- I simply could not buy another computer when I had a perfectly good one already

.

I considered selling it but desktops are very hard to sell online due to the large size

.

I decided to head into the deepest and darkest sections of the Internet to investigate building a Hackintosh

.
A Hackintosh is a run-of-the-mill PC that is made to run Apple's Mac OS X. This is where things get a bit tricky from a legal standpoint

.

Technically, the EULA for OS X prohibits the operating system from being installed on non-Apple hardware

.

So, are Hackintosh computers illegal? Yes and no

.

In my case, I have an Apple Wired keyboard plugged into my desktop -- this is Apple hardware

.

In my opinion, I am fine

.
After much research, I determined that my desktop was very compatible

.

Below are some of the specs:
RAM -- G.SKILL Ripjaws Z Series 16GB (4 x 4GB) 240-Pin DDR3 SDRAM DDR3 2133

Motherboard -- ASUS P8Z77-V LE LGA 1155 Intel Z77

CPU -- Intel Core i5-3570K Ivy Bridge 3

.

4GHz Quad-Core
SSD -- Corsair Force Series GT CSSD-F90GBGT-BK 2

.

5" 90GB

HDD -- Hitachi GST Deskstar 7K3000 HDS723020BLA642 2TB 7200 RPM

Video Card -- Asus ENGTX460 DirectCU TOP 768MB

Power Supply -- OCZ ModXStream Pro 700W Modular

Bluetooth -- IOGEAR GBU521W6 Bluetooth 4

.

0 USB Micro Adapter

Soundcard -- FiiO E10 USB DAC

Wi-Fi -- Intel Centrino Advanced-N 6205
Sadly, in my research, I found the Intel Wi-Fi card (which I love) was not compatible

.

And so, I bought a TP-LINK TL-WDN4800 Dual Band Wireless N900 PCI Express Adapter

.

This card is very popular with the Hackintosh community as it works out of the box without any hacks

.
I obtained OS X Mountain Lion and made a bootable drive for the installation -- using a SanDisk Extreme 16GB USB 3

.

0 flash drive. Unfortunately, for legal reasons, I cannot tell you how to do this step

.

However, you should be able to figure it out if you look hard enough

.
With the flash drive plugged in, I started my computer and entered the BIOS

.

I selected the flash drive as the boot drive and it began to boot

.

I was presented with the Clover Bootloader, which passed me through to the OS X installation

.

I was very impressed and surprised that it actually worked -- I expected problems and headaches

.
Once in the OS X installation, I went to the Mac Disk Utility and formatted the SSD with Mac OS X file format

.

This deleted both Windows 8 and Fedora -- there was no turning back

!

I then selected the SSD as the installation destination

.
The installation went very smoothly. I set up my profile, answered some questions and was off to the races

.

Once on the desktop I had one last thing to do -- install Multibeast

.

This is a special utility that will install the necessary drivers for your hardware plus the Chimera Bootloader

.

This bootloader is necessary if you want to boot directly from your hard drive or SSD

.

Without it, you would need to boot from a special CD or flash drive

.
Once Multibeast was complete, I rebooted my computer and selected the SSD as the new default boot device

.

I was presented with a very cute boot screen -- a picture of a lion cub

.

After about 30 seconds I was presented with the OS X login screen

.

After logging in, I found that everything worked -- App store, Messages, Facetime, iTunes…everything

.

I was overwhelmed with joy -- I finally had my Mac

!

I quickly and excitedly drove to Best Buy and bought an Apple Magic Trackpad and Apple Remote to complement my Apple wired keyboard

.

I got both of them to work with ease. The trackpad paired with BlueTooth flawlessly and worked with all multi-touch gestures

.

The remote, which is infrared, worked with an old Windows Media Center USB receiver once I installed a free program called Mira

.
While this entire project was very smooth, I did encounter one bug

.

After about an hour of use, my computer would just freeze requiring a reboot

.

I tracked the issue to a bug with NVidia Fermi-based graphics cards

.

The Hackintosh community already had a fix, which I installed -- no more freezes

.
Now that my 10.8

.

4 Hackintosh was rock-solid and working flawlessly, I decided to seek some software

.

I installed Chrome, Gimp, Adium, Transmission, VLC and doubleTwist from the Internet

.

As a Linux-user (and lover) I was particularly happy to use Gimp for my photo editing

.

While LibreOffice is available for OS X, I opted to buy Microsoft's Mac Office 2011 -- productivity and compatibility is paramount

.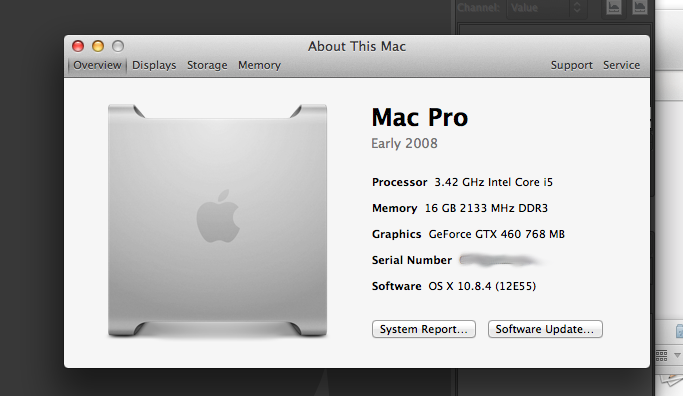 Overall, I am extremely happy with my new self-built Mac
.
It is a dream come true and very fun to use
.
If you choose to criticize me for bypassing Apple's protection, I respect that
.
However, I do plan on making my next computer an actual Mac (probably a Macbook Air) -- Apple will get my money eventually
.
This time, I am not declaring that I am leaving any OS behind, I will continue to use Windows and Linux

.

I recently ordered another SSD, which I will use for those operating systems. In other words, I will have a tri-boot computer with OS X Mountain Lion, Windows 8

.

1 and Fedora 19 -- the best of all worlds.
If you are interested in building your own Hackintosh, I suggest you start by going here

.