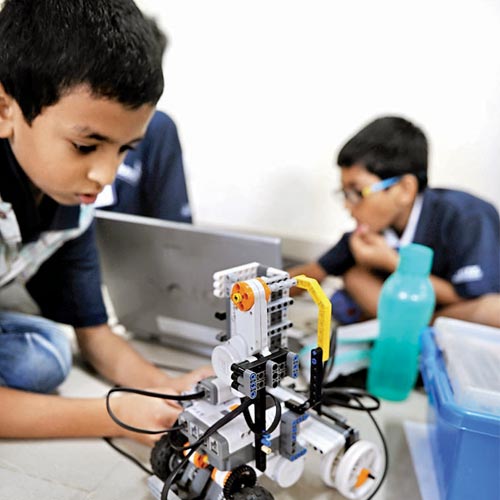 Students working on their robots at Visvesvaraya Industrial and Technological Museum for Indian Robot Olympiad on Sunday

.

- A Veeramani/DNA
How can a robot save heritage sites from natural calamities or environmental damage

?

About 150 students of classes IV to XII of various schools in the city came together at the Visvesvaraya Industrial and Technological Museum on Sunday to devise a solution for protecting heritage sites using robotic technology

.



The winners of the Bangalore chapter will meet in New Delhi next month for the eighth edition of the Indian Robot Olympiad (IRO), one of the largest robotics competition in India

.

The final winner will represent the country in the World Robot Olympiad (WRO) to be held in Jakarta in November

.

The competition involves building and programming a robot to perform specific functions, which involve protecting heritage sites around the world

.



Vikram Nitin from FIITJEE Integrated School and Rakshit Agarwal from NPS chose a project that required them to protect animals in Komodo National Park in Indonesia

.

They devised a strategy wherein tourists will be alerted and made to stop with the help of robotic sensors if there is an animal in the vicinity

.

"This will help prevent man-animal conflict," says Vikram

.



Need to go beyond mugging up

Last year, a team from Mumbai was ranked second in the WRO

.



"To win any position at the WRO is tough

.

Students from South Korea and Taiwan are really strong," says Christopher Das, judge for the Bangalore chapter

.



"We could have done a lot better had our education system focused on problem solving, creativity, and application of maths and science in practical life

.

Unfortunately, our school curriculum lays major emphasis on retention power," Das rues

.



Amrita Sharma, mother of Ravi Sharma, a participant, says competitions like these help bring out the best in children

.

"To be very honest, my son does not score well in any subject apart from science and maths

.

Teachers in his school keep complaining to me. I wish our education system focused on strengths of a child rather than their weaknesses," she says

.



Sajeev Karuthody, director, Edutech, an educational solutions provider, says that such competition will help improve education standards in the country

.



Low representation of girls

Though the competition saw more than 150 students participating, the number of girls taking part was abysmally low

.

"It's a sad fact. Every year, it's the same story

.

The reason could be that parents associate boys with engineering

.

Girls are not encouraged as much," says Das

.