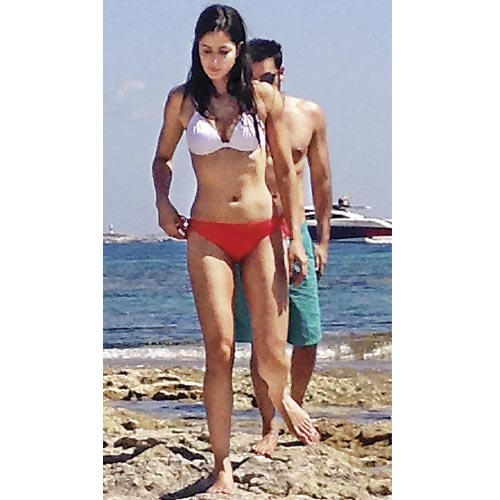 Kat-Ranbir during their holiday in Spain

.
Katrina Kaif is upset about her bikini pictures appearing in the media.One wonders why because she wore a two-piece in Boom and even on Cosmo cover

.



Says a close friend of the actress, "She blames herself entirely for what happened

.

She feels she should not have worn a bikini on a crowded beach

.


The minute she saw Indians on the beach she regretted being so relaxed and casual even if on a private holiday

.

"

Katrina has resolved to never wear a bikini even on the beach

.

Says her friend, "Shorts and a top. That will be her mandatory beachwear from now on. This experience has taught Katrina never to let her guard down

.

" The pictures of Katrina Kaif holidaying on a beach in Spain has snowballed into a major controversy, what with the actress writing an open letter to the press questioning the ethics of printing pics from a very private moment

.

Clearly, she is not familiar with how papparazzi works

.



The no-bikini clause will now be a mandatory part of Katrina's career

.

In fact, she isn't wearing a bikini in Dhoom 3 either

.



Apparently, Aditya Chopra did try to make Katrina embrace beachwear

.

"But Katrina persuaded Adi to drop the idea

.

They worked out a compromise that suited both of them

.

Post the leaked pictures of hers in Ibiza she is unlikely to get into a bikini no matter what the prompting," concludes the source

.